---

Bill & Melinda Gates Commons
Exiting the elevator, look straight ahead and you see the Atrium skylight with its "fritted" glass pattern, which allows light but reduces glare and heat from the summer sun.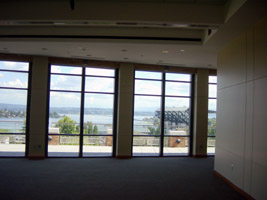 Bill & Melinda Gates
Commons

Head to your right and at the end of the hall, enter the Bill & Melinda Gates Commons. This is the major meeting and conference space in the building, with stunning views over Lake Washington and the Cascade mountains. This room will be used for seminars, faculty meetings, and technical and social gatherings of all sorts. It is equipped with multiple data projectors, a large-screen plasma TV, and surround-sound, and is supported by an attached kitchen.

---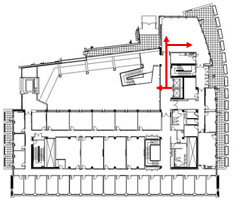 Next: Outside the Gates Commons, facing Lake Washington, is the Alberg Terrace.

---

Computer Science & Engineering
University of Washington
Box 352350
Seattle, WA 98195-2350
(206) 543-1695 voice, (206) 543-2969 FAX
[comments to lazowska]